Here's a deep-dive tutorial into the new Google Search Console:
In this video, author and small business marketer John Jantsch takes me on a demo into the Google Search Console tool.
What is Google Search Console?

Google Search Console is one of the many free tools Google offers its users. Search Console helps you submit URLs and sitemaps to Google, measure your site's search traffic and performance, and also provides tools to fix issues to help improve your search rankings.
If you want to optimize your content, the console shows you the queries bringing users to your site. You can also analyze your site's impressions, clicks and your position on Google Search. When you submit your sitemap to Google you can have your site reviewed and indexed so Google has the latest updates to your site. This helps get all that new content on Google.
You can also know when something is not right with your site. Email alerts will identify issues, so you know what needs fixing. You can also get a better understanding of how Google sees your pages.
Basically, you can learn how to optimize your site once you get the hang of using the Google Search Console.
The Console Formerly Known As…
Formerly known as Webmaster Tools, Google Search Console has been updated not only in name but also in what it offers. To be clear, when things are clear as mud: Since Google Search Console replaced Webmaster Tools, there has been an update. So, while you can still access the older version of the console, if you try to reach Webmaster tools you'll be redirected to the new console.
If you're a fan of the old version, fear not, as Google realized this might be the case. You can still work using both versions so you can get the best of both worlds. It's a bit of a pain, but at least you can get what you need with a bit of back and forth.
Google's Suite of Tools for Website Owners
As a small business owner, you really should familiarize yourself with Google's main tools including:
Google My Business: This tool is like your online base camp. It provides all the information required for Google to find your local business. It is also the source used most often by industry directories, so you want to make sure all the info is up to date. It enhances your SEO, provides images at a glance for searchers and even allows you to make mini posts like a social media platform.
Google Analytics: You need this to track activity on your site as well as data relevant to some of your digital marketing efforts.
Google AdWords: This offers a way to pay for rankings (rather than wait for organic rankings) and quickly increase traffic to your site.
Google Search Console: This works with your Google Analytics to get an overview of everything you need to know about your site activity.
When all of these tools work together you get a better picture of how you can optimize your website and online presence.
How to Use Google Search Console for Your Small Business Website
To get started on using Google Search Console you have to follow these simple steps:
Google needs to verify you are the owner of your site. To do so you have to "Verify" your site. Follow these steps:
Find and click "Add Property"
Under "Select Property Type", enter the URL of your website under the "URL Prefix" option
To "Verify ownership", I prefer the "HTML tag" method

Most websites and SEO plugins support this option the most

Click "Verify"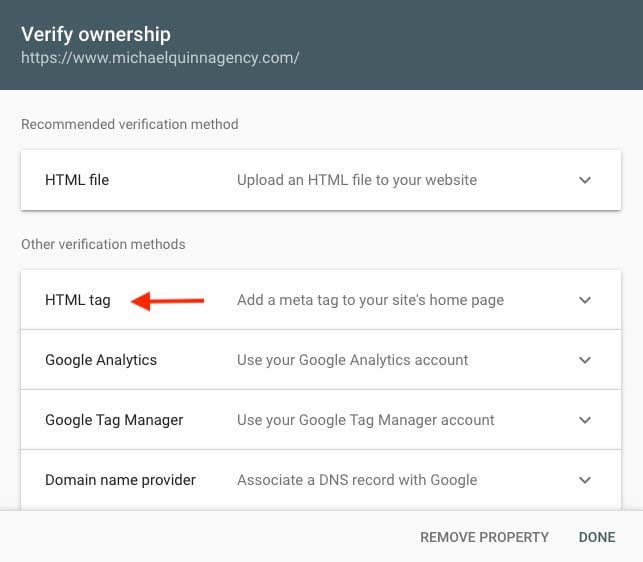 When you add a sitemap Google can "index" your site pages. In WordPress, the Yoast plugin will automatically produce a sitemap. Your XML sitemap is accessed at either yoursitenamehere.wordpress.com/sitemap.xml or for custom domains yoursitenamehere.com/sitemap.xml. It automatically includes the 1,000 most recent posts on your site. Also, make sure the option in Settings > General > Privacy is set to "Public" on your WordPress website.
You then have to add it to Google Search Console:
Go to "Index" to select "Sitemaps"
Click on "Sitemaps"
Remove outdated or invalid sitemaps like sitemap.xml
Enter 'sitemap_index.xml' in the Add a new sitemap field using the full sitemap URL
Click "Submit"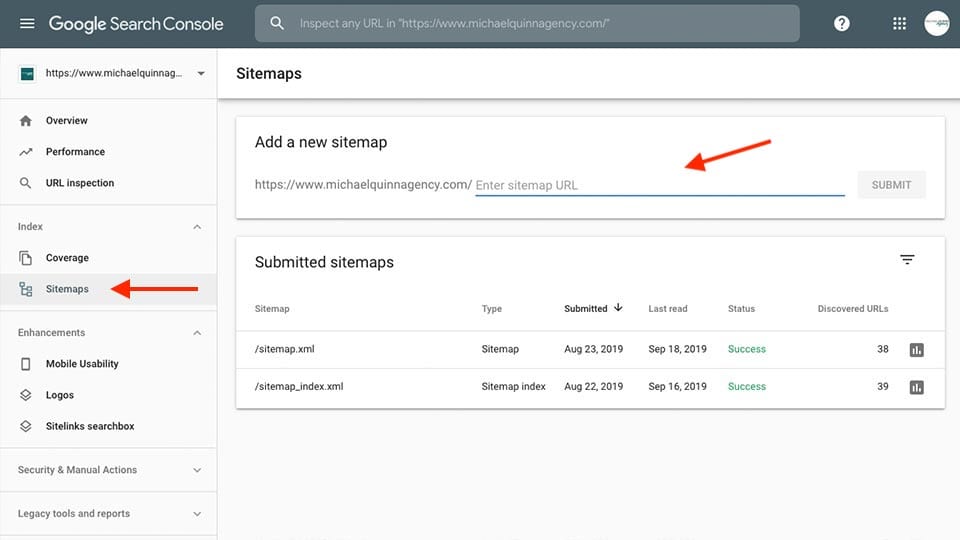 You've done all this, but why? There are several different reasons:
Malicious threats: It reduces the risk of Malware and other pesky threat issues. You'll know when there's suspicious traffic on your site that could be up to no good.
Crawl errors: With your site map and verification, your search console will warn you if some of your pages can't be "crawled" during a Google search. This is how Google finds the best pages. You'll know if there are any issues with your pages so you can make sure all your info gets found. You can fix errors Google finds.
External links: External links are important for building SEO. However, if links are from inappropriate sites it has a negative effect. Search Console shows external links so you can disassociate yourself from sites you don't want to be hanging with.
404 Errors: This is the worst, kind of. Nothing is more frustrating to a searcher than clicking a link and getting a 404 error. This is a page that can't be found on your site. Once your Google console is set up, you'll know your site has 404 errors and 301 redirects will replace them. This will send people to a better page, so they find the info they need, instead of disappointment.
Schema Markup: This provides richer search engine results, so users get a better idea of what your link offers, sometimes even providing the exact info they need right in the search results, like say your store hours.
Check messages: Once your account is set up, you'll receive messages, so you know what's what and if anything needs attention. It takes a few days, sometimes more to show up, but check in regularly.
We've given a brief overview of what you get when everything is set up properly, so now we can go a little deeper.
How Does Google Crawl My Site?
There are three elements to "crawling":
The Crawl: Google's job is to endlessly run searches across every page on the web. This is crawling. Google will come across familiar pages often, while new pages are found through existing pages. There are also brand-new pages Google discovers on new pages when they find a new sitemap submission. A lot of providers like Wix or Blogger will also be sending updates to Google so they can crawl their new pages.
The Indexing: When Google finds a page, it figures out what the content contains and then indexes it based on the category. Text, images and video help Google determine the value of the page which it then stores in the Google index for future use. When a search indicates your pages match, it ranks it.
Serving/Ranking: When Google receives a query, it uses its index to find the pages that will provide the highest quality content. It uses algorithms to search its massive library so that the user gets the best answer. This will include info like location, language, and even the device being used. It then ranks the search results with the best content at the top.
You can get an idea of why it's important to have your site map set up properly as it helps Google find what it needs. Hence the term "map."
Submitting new URLs to Google
It's not uncommon to have updated or brand-new URLs you need to add to Google. To do so, follow these steps:
Log into your account and select the property or website you're uploading
Access the "URL Inspection" report at the top of the sidebar menu, below "Overview" and "Performance"
Your report will load and for new URLs it will tell you your URL is not on Google, which is fine.
Double-check your page and content with the "Test Live URL" option
Submit the page to Google with the "Request Indexing" option
Remember to do this, and Google will always be up to date on your pages.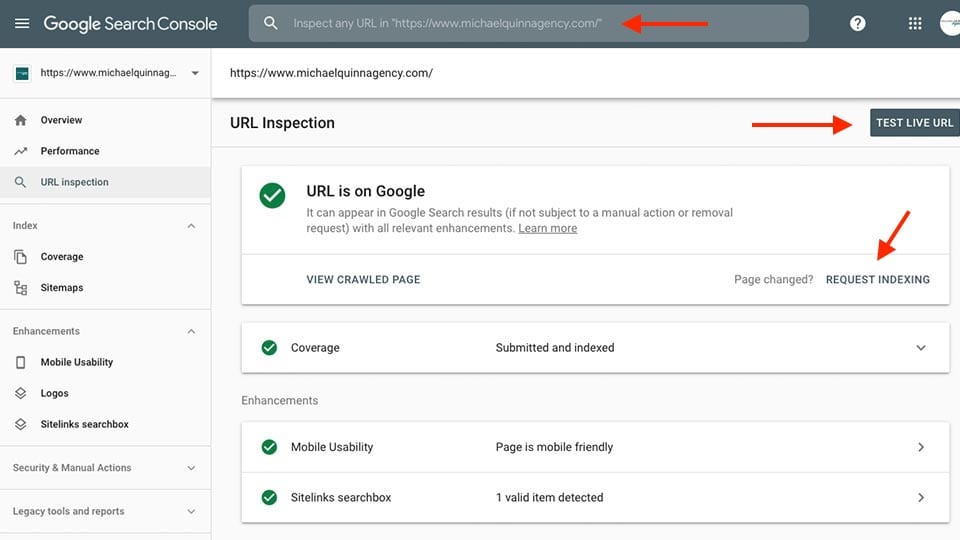 Google Search Console Performance Report
Google Search Console provides an analysis of your site performance. Your report offers important insights including:
 
Keyword search rankings: You'll learn the search terms people use to find your pages so you can build this info into your content.
Compare performance over time: Now offering 16 months of past data, you can look for improvements and trends.
Click-through rate (CTR): CTR is found under the Performance tab using the new Google Search Console. Here you can look at search terms, impressions, CTR, and position on Google to find opportunities to improve rank and conversions. To make improvements you can check the metadata, including titles and descriptions. You can also look for opportunities to make your content and on-page elements more clickable. Internal links, for example, can increase dwell time which boosts CTR and rank for your pages.
Search query report: Under Pages, you'll find the actual search terms that bring you the most traffic. Click on the page, and Queries for each specific page. You can then optimize those keywords. This is a valuable insight as the terms can be used to inspire future content generation. You'll improve performance because you'll know where you can leverage the popular queries that are getting people to your site. For example, you can rewrite the titling for pages to reach a higher ranking. It's like using your existing content to improve your ranking without having to create new content all the time (although you still want to do this.) You'll know what your prospects are searching for.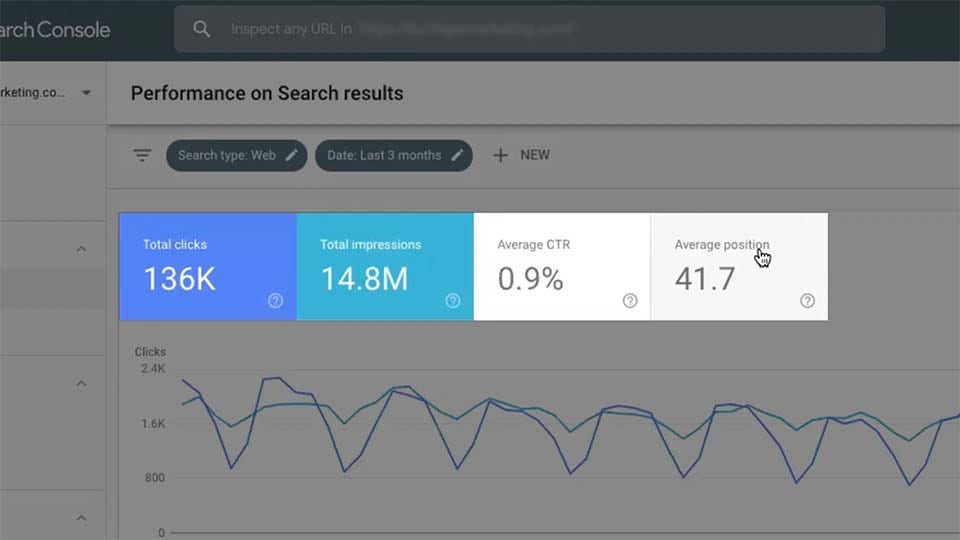 Internal and External Links Report
This report lets you know who is linking to your site as well as your top-linked pages. You'll find topped linked pages for domains, specific pages on other sites, text pointing to your site, your most linked-to pages, and your internal links as well.
If you've been using the old version of the console and switch to the new, don't get worried if you see a drop in numbers. The new version is more accurate, so you might see a change. Google's just gotten smarter at reporting links.
Google Search Console identifies issues that might be interfering with user experience:
Mobile usability: Since the majority of searches today are on mobile devices, you need to know what might be turning people off when they visit your site. You can fix things whether the info is appearing messed up, it's too small, your menu is whack, etc.
Crawl report: As we've already covered, Google is constantly crawling and indexing pages. This report alerts you to issues that could negatively affect your ranking. You might see a perfect page when you look at your site, but it's the man behind the curtain that Google sees.
What are the Differences Between the Old and New Search Console?
The new version ditched some features, merged others and added some new ones. Here's a quick overview of the changes:
Crawl Errors was moved to the Index Coverage Report: Google wanted to make the crawl error report more actionable so they included them in the Index Coverage Report so you can find errors and fix them quickly.
Sitemaps Data also moved to the Index Coverage Report: This move was made to help you find the most important URLs to your site so you can track the URLs you submit in sitemap files. You select and filter the data here.
Fraud blocker: You use a new set up to protect your ads from fraudulent clicks by bots, your competition, click farms, etc.
Fetch as Google: A URL inspection tool overhaul allows you to check and review URLs on your website. The URL Inspection tool will provide you a look at things like HTTP headers, page resource, and the JavaScript console log. You can also use it for image submissions, so they are updated sooner rather than later in search results.
User-management has moved to Settings: The user management interface was merged with the Settings section which replaces the user-management features.
Extended reports: You can now see the past 16 months of data which is crazy good.
Old crawl errors report: Since it was moved to the Index Coverage report.
Crawl errors API: The crawl errors API has been deprecated and won't be replaced.
HTML suggestions: You will no longer be able to see info about short and duplicated titles.
Property sets: This feature wasn't very popular, so it will be replaced with an option to manage a Search Console account for an entire domain.
Android apps: Most of the functionality was moved to the Firebase console.
Blocked resources: This was moved to the URL inspection tool.
Structured data reporting: If not supported by Rich Results features Structured Data types will no longer be reported.
If you prefer, Google allows you to go back to the old version as it might be important/easier for die-hard, old school users.
Small business owners really can't afford to ignore this free, powerful tool. It's not just about measuring your site's search traffic and performance. It's about understanding what needs to be fixed to improve rankings. You'll learn how to optimize your content looking at reports that identify not only issues but opportunities. Without the need to constantly monitor your site, Google will alert you to issues so you can act before your rankings are affected.