What Is Keyword Research?

Before you begin any search engine optimization (SEO) efforts for your small business, there's one very important step you need to take to set yourself up for success – discover how your ideal customers are searching for your services on Google and other search engines… and if they are searching at all.
In other words, you need to find out what words and phrases they type into a search engine when they begin their customer journey for your services. These words and phrases are known as "keywords".
When someone enters a keyword into a search engine, this is known as a "search query".
"Keyword research" is simply the process of identifying the search queries that people are entering into search engines, such as Google. This research allows you to understand the actual words and phrases people are using to find services like yours.
Keyword Research is Your Strategy
You might assume that you know the best keywords you need to rank for in search results — it probably seems pretty straightforward, right? However, a lot of businesses spend unnecessary time, energy, and money targeting the wrong keywords that won't generate them any business, simply because they didn't take the time to tackle the strategy first. Keyword research is your strategy. Once you're equipped with this, you can use this knowledge to target the correct words and phrases in your SEO, website content, videos, and images.
Fortunately, this process doesn't have to be too complicated. There's a simple solution for doing keyword research in minutes.
How to Do Keyword Research:
My Easy Keyword Research Method in 5 Simple Steps

There's an unbelievably simple method for doing keyword research that ensures you're targeting the best terms and phrases for your time and money.
For this method, you'll need to use Google Chrome as your browser (which I suggest you use anyway).
Step 1 – Google Autocomplete

Yes, it's really this simple – Google's autocomplete suggestions. Basically, when you begin typing into the Google search bar, Google will suggest searches even before you finish typing. These suggestions have been around for a while, but did you know they're based on what people are searching for the most?!
This feature works great when trying to come up with subtopic content ideas for your blog posts or service pages. For example, if you are a chiropractor creating content related to pregnancy, you'd discover that people search for things like "chiropractic benefits and risks during pregnancy" and use the word "prenatal" in their searches more than you may have thought.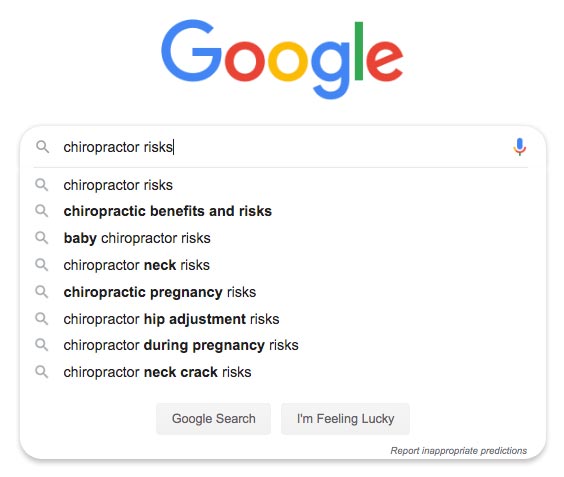 Step 2 – Keywords Everywhere Extension for Chrome and Firefox Browser
I like to pair this tactic up with an amazing inexpensive tool for the Google Chrome (and Mozilla Firefox) browser called "Keywords Everywhere". Within the Google Chrome browser settings, search for "Keywords Everywhere" and install the extension. This tool auto-generates a list of related keywords for any search you perform on Google. Next, do a search in Google for the word or phrase that you think you should target. Say, for example, you're a landscaper based in San Diego. If you search "landscapers san diego" in Google, Keywords Everywhere will show you a list of the most searched keywords related to that search term right on the sidebar of your browser.
Not only this, but Keywords Everywhere also offers data on the Google suggestions themselves (see the example above). These suggestions from Google are a great resource for finding the most searched terms related to what you're searching.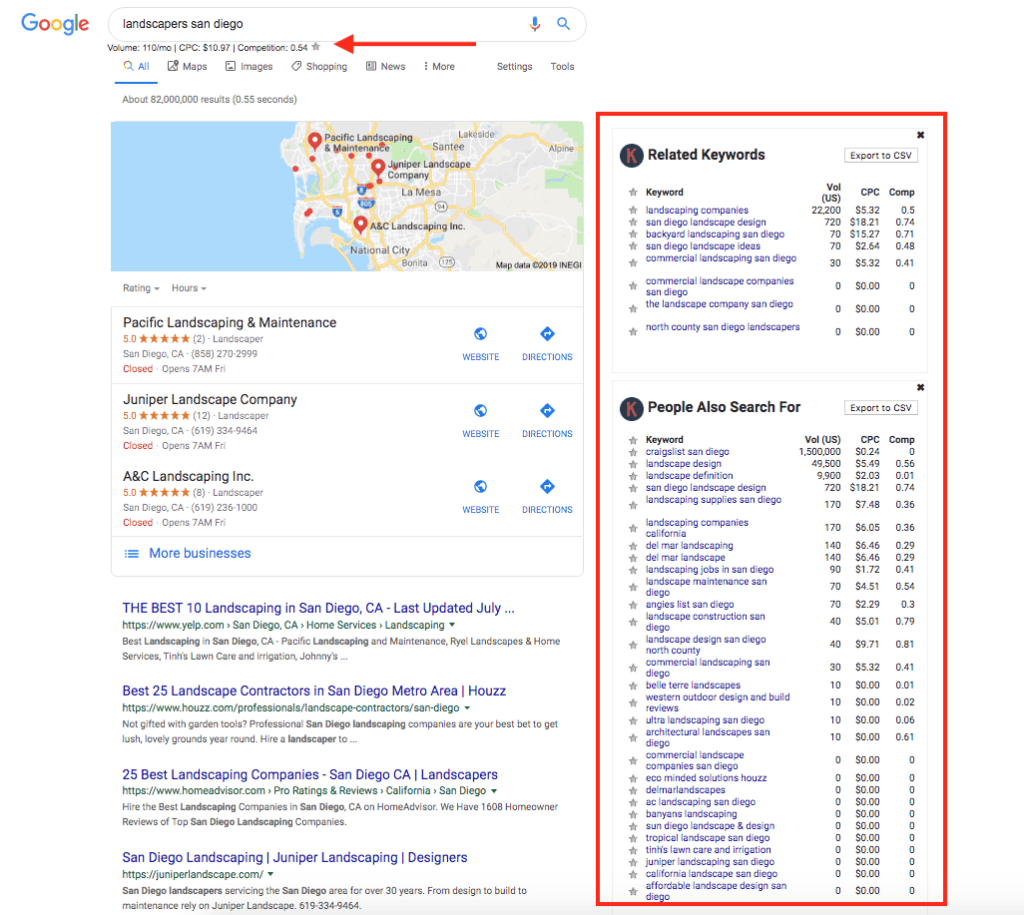 Keywords Everywhere will also show you the monthly search volume, cost per click (useful for Google Ads), and competition (weighted on a 100 point scale) for any given search term.
It also allows you to export the results as a spreadsheet.
The pricing for Keywords Everywhere starts at $10 for 100,000 searches. (If you use an average of 40 credits a day, this will last you 250 days. Well worth it!)
In this video, I demo how to use Keywords Everywhere:
Step 3 – Select 3-5 Keywords Per Service or Topic
Now, the easy part is simply making a quick list of these keywords based on search volume and customer intent (see more about customer intent later in this post). Start by selecting your main keyword (sometimes referred to as the "money" or "target" keyword) based on search volume. In general, selecting this one based on total monthly searches is probably the best idea. Then, I recommend selecting 3-5 keywords per service you offer or piece of content you're writing about. These secondary (or "long-tail" – three and four+ word phrases) keywords are meant to be terms you'd like to rank higher for but aren't as important as the main target keyword. Do this exercise for your business as a whole and for each of your top services, products, or topics. You'll likely end up with 15-30 keywords in total.
Step 4 – Divide into Primary vs. Secondary
Once you have your list of keywords using these strategies, you want to group them into two lists – primary and secondary keywords.
Primary keywords are the ones that are integral to what your business is and does. They are the phrases you will invest significant time and energy in and will earn you higher rankings. One of them should be the focus of your homepage, and others should have pages dedicated to them.
Secondary keywords are ones that are more suited to your content strategy. You could use these phrases as inspiration for blog posts or YouTube videos. I recommend structuring your content around these secondary keywords and make some of them the headlines for your content's subtopics.
Step 5 – Determine the Intent of Viewer
An important thing to keep in mind while you're doing your keyword research is that just because something may have a high volume, that doesn't necessarily mean it's the right keyword for you to target. It all boils down to the intent of the viewer and what they're hoping to find with their search results. Think about who's searching for which search terms, and if you want that particular client.
Customer intent is the biggest thing business owners and marketers overlook when they are selecting keywords. They don't take the time to consider WHY someone is searching for a certain term or phrase. Just because something gets the most searches, doesn't necessarily mean it's a keyword the customer would take action on. For example, if you're a mattress store that only sells locally in Omaha, it would be silly for you to target the search term "mattresses online." Why? Because the person searching that phrase is likely looking to purchase a mattress via Amazon or online retailer, not from a local store. Putting time, energy, and money into that keyword isn't worth it.
Instead, you need to simply take a step back and consider the intent of the viewer and if your service or product is the best and quickest solution to their search needs. If it's not, you need to choose a different keyword to focus on.
For example, a hair stylist may want to focus on "hair salon" even though the term "hair cut" gets far more searches. "Hair salon" is far more accurate to all the services they offer, and it's also more indicative of the types of clients they want. They aren't looking for a guy who wants a quick haircut to walk in the door; they prefer the higher paying customer who needs a full cut and color and yields a higher profit.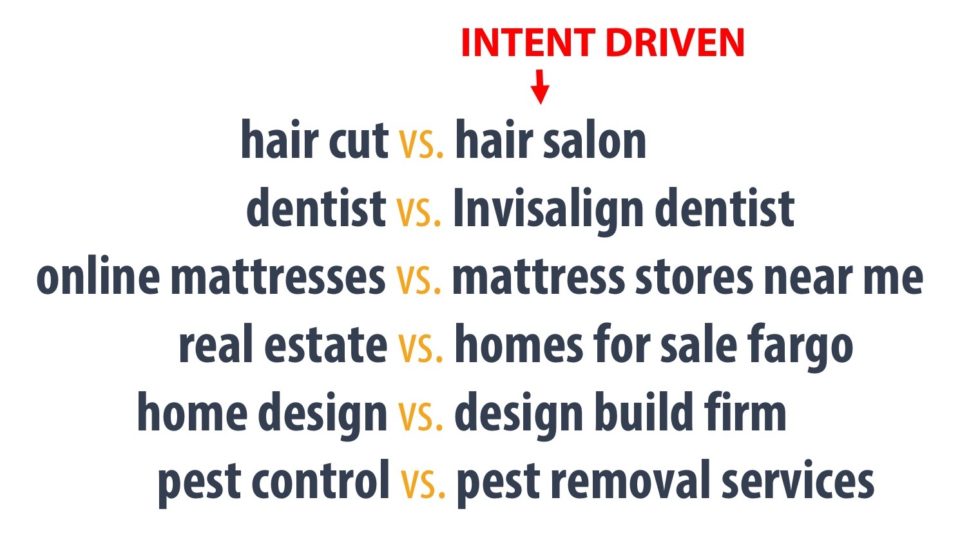 Now that you have selected the absolute best keywords to focus your time, energy, and money on, you are ready to take action. Begin creating content tailored to the keywords you chose, either with blog posts of website content.
Tim Soulo from Ahrefs (Ahrefs is an SEO and keyword research tool) put it best when he said, "only target topics [keywords] if your business, your product, or your service would be the irreplaceable solution." If your business can't confidently offer that solution, you need to focus on another keyword or create content on your website to be the best possible resource to solve the problem.
For more information on keyword research, SEO, and the basics of Google rankings, check out my YouTube channel where I break down these concepts so small businesses can be easily understood them.