The internet has really changed the modern customer journey. Consumers have way more ways to engage with your company than ever before. That means your customer experience is available through different channels, whether you have put the information out there or not. Geolocation puts your company in front of customers, making it easier for them to find their way to your business. However, between their discovery of your business and their arrival at your door, almost 71% of consumers begin their journey using a search engine. Furthermore, 3 in 4 customers who find helpful information in local search results are more likely to actually visit that business. Search rankings should be a vital marketing priority for small businesses because search takes up a significant portion of the customer journey. That's why you need to pay attention to the search rankings for your small business.
Since 50% of consumers compare products, features, and prices online prior to making a purchase
, you need to provide more information than your competitor at the research stage. If not, you're at risk of losing a potential customer. Therefore, knowing what your customers are searching for and providing the answers to their questions online is an invaluable asset in building your customer base. Google has zeroed in on "customer intent" so that it can deliver more specific, relevant search results. No longer do a few simple keywords lead search engines to a product or service page. Instead, Google has adapted its algorithms to understand what a searcher is really asking, based on the way a query is formed. Also in the mix is the increase of voice queries. People can now ask a question out loud to their smart devices, which changes the way keywords and key phrases work. The good news is that this often makes determining customer intent easier. When you can determine a customer's intent, you can show them exactly what they need.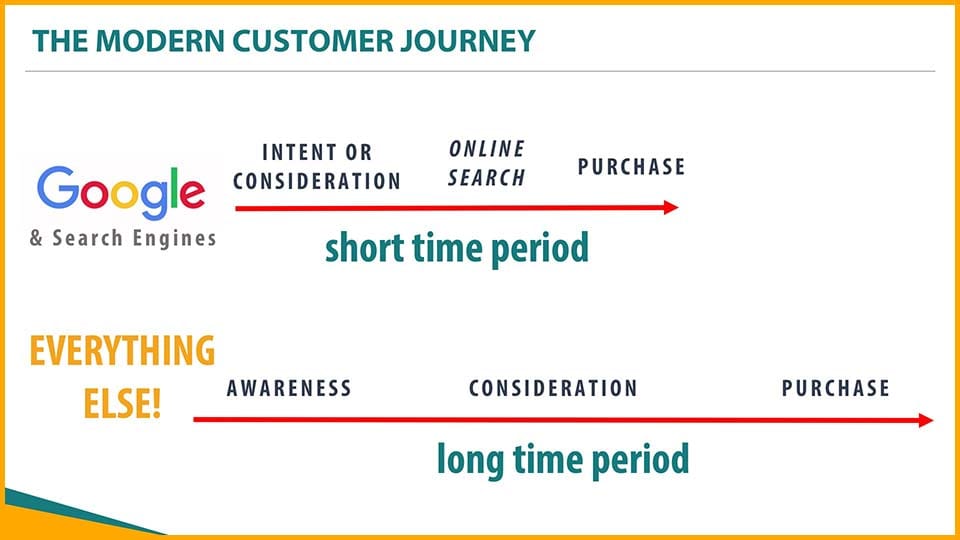 Google's Search Quality Guidelines now include a "Needs Met Rating Guideline" section. These ratings range from "Fully Meets" (FullyM) to "Fails to Meet" (FailsM) the criteria of a search. Without going too deep, the three types of basic search categories are:
Do: This searcher has a specific action in mind, such as purchasing a product or booking a service.
Know: A "know" query wants information. This can be product related but can also be when a person has something come up in conversation and wants a quick answer. This is the "Google it" query. Most importantly, however,
it is the micro-moment query. This is where the rubber often hits the pavement, and a customer wants a quick answer before they make a purchase. More about this below!
Go: These queries are brand or known searches based on a specific website. For example, instead of searching for athletic wear generally, they ask for Nike, so they aren't shown Adidas.
The Sales Cycle on Search Engines
The customer journey on search engines tends to be much shorter than marketing mediums such as social media or ads. When customers use search engines,
74% of them are already in need of or considering the product or service
they are searching. They are deciding which company will get their business. By the time they make contact with your business, they have likely already narrowed down their choices. When you look at other marketing channels, you're taking the prospect from awareness to purchase. That involves multiple touchpoints over months or even years. Typically, that process also happens before they even need your product or service. With search engine marketing, three-fourths of the time, the customer is already shopping. As a result, you simply have to be the brand that gets in front of them first. With the best content or message, you'll leverage the micro-moment and take advantage of their Zero Moment of Truth.
When customers search a service or product prior to purchase, Google calls this the "
Zero Moment of Truth
" (ZMOT). This theory has been updated to include multiple "micro-moments" as customers encounter your brand at varying stages or queries on their journey. These micro-moments provide opportunities for prospects to make it to the end of their customer journey.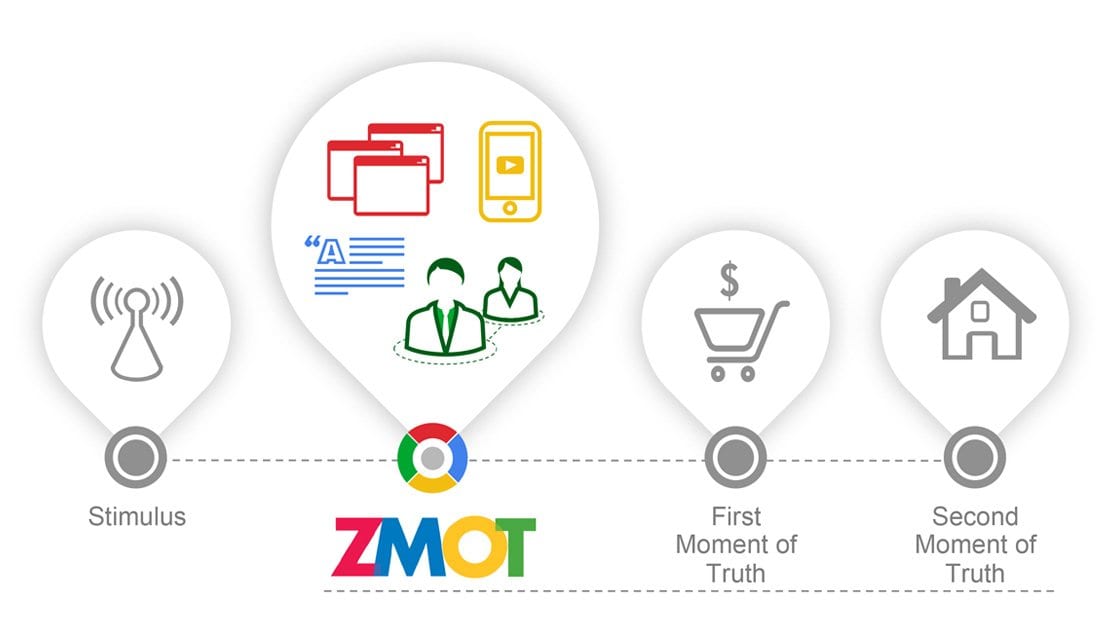 In the customer journey, there are a few different moments of truth, including:
First Moment of Truth (FMOT): This is the first touchpoint when a prospect comes across your brand. In the best-case scenario, this person becomes a customer with an impulse purchase.
Second Moment of Truth (SMOT): In this case, you have an existing customer who's familiar with your brand or product. You want them to see that you delivered on your promise so that you can create a repeat customer.
Third Moment of Truth (TMOT): Here, the satisfied customer is yours. They are a fan and can become an influencer by sharing and recommending your product. This can significantly improve your SEO ranking.
The Zero Moment of Truth (ZMOT): Google defines this as the moment that stands between your ad and the FMOT. Today, that ad will be something the prospect encounters online via search engines or social platforms. This process occurs before you even know the prospect exists. It is the moment you need to capture them.
According to Google, in the span of a single month, the search engine answers over 100 billion queries. Each search is an opportunity for businesses to reach consumers at the moment they're engaged and looking for answers. ZMOT allows you to use an online search to your advantage. By identifying the questions that matter to consumers, you can incorporate the right content in your business's marketing plan.
When you understand what consumers are searching for, you can show them the information, reviews, pricing, and so on to meet their needs during micro-moments. Since this is how people are shopping today, it is the best way to get in front of them.
If you leverage your website and other online assets to provide the best information that serves their needs, you'll be better positioned to convert prospects into customers. That is why search engine marketing can be so powerful!
Who Is the Leader of the Pack for Search Engines?
According to Statcounter
, Google has just over 92% of the world's searches. However, they are not alone. There are 11 other search engines trying to out-search the search giants. Statcounter lists Google's main "competitors" as Bing and Yahoo in the world. As the second-biggest search engine, Bing still only has 2.61% of the market. Bing is also responsible for Yahoo!, the third-largest search engine. Combined, they take up 4.51% of searches. It might be interesting to note that according to Microsoft, as of 2018, 40% of Bing users are between the ages of 54 to 64, and 33% of Bing users earn over $100,000 a year. That's hard to ignore if these figures describe your target persona. In a separate study by
Search Engine Journal
, YouTube was found to be the number two search engine. This is much because
72% of people prefer video
over text when receiving branded information.
Trends that are affecting competition include:
Privacy concerns: With people getting a little miffed over privacy concerns, search engines like DuckDuckGo and Startpage are gaining some steam. They don't collect, share, or store personal info, which is attractive to many users. However, the leader in this category, DuckDuckGo only has 0.37% of the market.
Green searches: Another concern surrounding search engines is the amount of CO2 produced by Google. Numerous reports were made about Google's contributions to greenhouse gas, but the simplest reference is from Statista. They reported that Google emitted just under 3.29 million tons of carbon dioxide equivalents in 2017. Although Google neutralizes emissions by carbon offset projects, search engines such as Ecosia are leveraging the bad press by advertising that they plant trees for every search made on their engine.
So, Google is still the search engine that you should focus the majority of your time and efforts on. Unless you're targeting high-earning seniors, Google really is your best choice to build your customer base and cater to your customers' needs. By paying attention to whether or not your content is showing up when people are searching for brand-relevant answers, you'll outsmart the competition. You can spot areas where you need improvement and revisit your SEO strategy. There's no getting around today's customer journey being dominated by the internet. That is why search ranking for small businesses is still so important. Understanding customer intent will allow you to get in front of customers at the most critical stage of their journey more often, more effectively and more affordably.