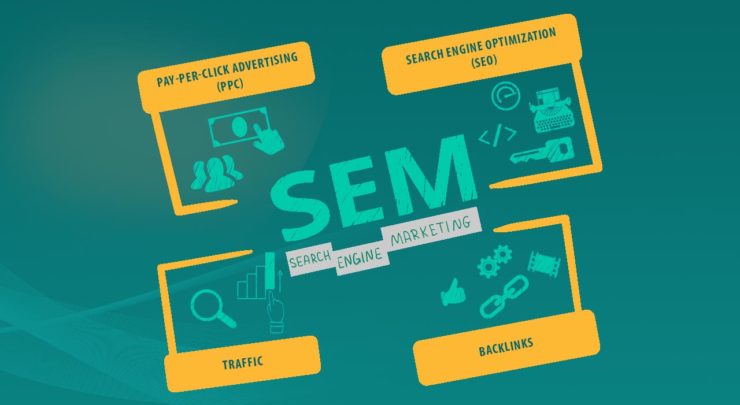 The Internet has become an important part of everyday life. So much so that it's even inspired its own language. Internet marketing jargon is a useful time-saver, but only if you understand what's being said. For many businesses that are new to the online marketing world, terms like "backlink" and "SEM" might as well be a foreign language. At the Michael Quinn Agency, we understand that knowledge is power, and we want our clients to have all the information they need to be successful online. Here are some of the most prominent search engine marketing terms you should know.
Search engine marketing, or SEM, is a form of digital advertising aimed at improving the visibility of a brand or website. The primary goal of most SEM campaigns is to increase rank in SERPs, or search engine results pages. The three main types of search engine marketing include organic SEO, pay-per-click and local SEO. For a complete campaign that covers all the bases, all three are usually used to get the best results.
Search engine results pages, or SERPs, are pages you see following an internet search. When you use websites like Google the results populate in a strategically ranked list. Websites at the top of the list generally garner more views than those down below. This sparks the use of marketing tools and strategies like SEO, or search engine optimization.
Search engine optimization, or SEO, is the active effort of improving your website's ranking on the search engine results page. For example, if you run a successful plumbing business in Fargo, North Dakota, but a search for local plumbers puts you 5th in line for the top result, boosting your SEO efforts would improve your ranking.
Pay-per-click, or PPC advertising, is a form of paid advertising which only charges a fee when your ad inspires action from an internet user. In many cases, this action is clicking the ad, which directs them to a webpage. PPC is widely used on a variety of popular sites such as YouTube and Facebook.
Organic traffic occurs when internet users find your website naturally. Usually through a Google search, or by typing a URL into an address bar manually.
Paid traffic is website visitors who arrive because they've clicked a link created through some form of paid marketing. PPC ads, for example, create paid traffic.
A backlink is a hyperlink that is strategically placed on an external website to link back to your own. Backlinks are helpful in improving SEO and web traffic. Once upon a time, it was common practice to create point thousands of low authority backlinks to your website to increase rankings, but these blackhat tactics are no longer tolerated by Google.
Web traffic refers to the number of visitors your website receives. Not only does traffic improve chances for ROI, or return on investment, it also looks good to Google, once again improving SEO. Of course, not all traffic is created equal and getting thousands of visitors that do not intend to do business with you won't help in the long run. Targeted traffic is what you need to increase conversions.
A title tag appears at the top of a browser when you visit a webpage online. It helps internet users determine which page they're on and helps search engine crawler bots understand the layout of that website.

Meta descriptions are usually 120-155 characters long. It's a brief account of what to expect on your website. This lets internet users decide whether to click a link or move onto the next one. Using a meta description improves SEO and visibility.

More Search Engine Marketing Advice
If you found these definitions helpful and want more advice on your search engine marketing efforts, contact us at Michael Quinn Agency today. You can also check out our
Youtube Channel
for useful marketing advice and interviews that will help take your own marketing game to the next level.