Without fail, the number one search engine optimization (SEO) topic I receive questions about each year is the dreaded Google algorithm updates.
Marketers have used impending algorithm changes as a scare tactic for years and small businesses have been conditioned to believe that Google is a moving target.
While Google does make small changes to the ranking algorithm on a regular basis, it only makes a few big updates each year. These are known as "core updates".
The truth is these core updates primarily only affect larger websites and have very little impact on the average small business website… as long as you're not doing anything shady that Google advises against. (See Google's quality guidelines for details). To put it in plain English, Google uses the core updates to weed out bad actors, because, at the end of the day, their mission is to "deliver the most relevant and reliable information" to the viewer — and yours should be too.
Stop fretting. The core fundamentals of ranking on Google always remain consistent. If you want a beginners lesson in the basics check out my SEO mini-course on YouTube. Stick with what works and you'll be fine.
That being said, it's still beneficial to keep up on trends to stay ahead of your competitors and continue to improve your site. Here are the three areas I recommend prioritizing (or continuing to prioritize) in 2021.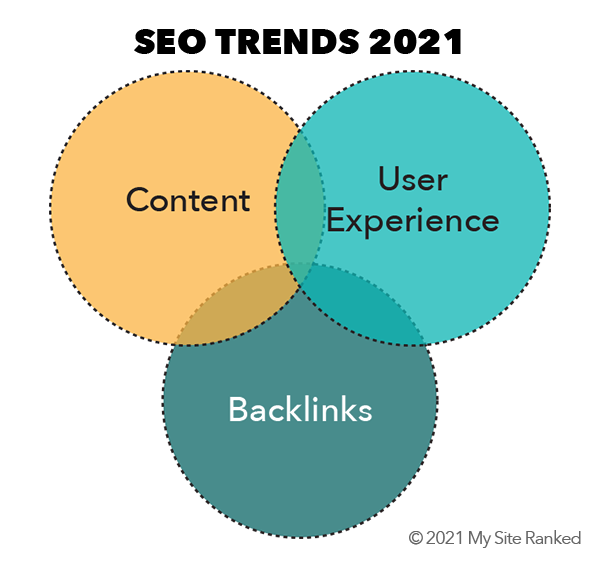 1. Content
Google rewards sites with quality content. One way they determine quality is by measuring how long people stay on your website. So, make your website the most helpful site for your industry or category. Look at your competitors' websites and make yours better by answering every possible question a potential customer might have – and more! That way, visitors won't have to leave your site to find other answers, and Google will know you have quality content.
Content Doesn't Just Mean Blogs And Articles
An easy way to start is by creating a page for each of your products and services. Include details about your process, frequently asked questions, and prices, including helpful things like payment or insurance options (if appropriate for your industry). Also, optimize your biography, contact us, and home pages – they're the top-visited pages on websites.
Curious how to structure your pages? Get my free web page wireframe templates in my SEO Basics Kit.
Level Up Your Content By Creating Long-Form Blogs, Articles, Or Guides
Once you've finished improving the main pages on your site, begin creating long-form content on topics surrounding your main services or products. These can be in the form of blog posts, articles, or guides and should be in the realm of 1,500-3,000 words. Don't get too hung up on the perfect length however. The aim is to create quality material that signals to Google that your site is the most reliable resource for your industry or category (not to mention this will help set you apart as the expert to the viewer, a win-win). One way is to write content that addresses potential customers' needs – why your business is the best option for fixing their problem or answering their question. It should always be about them, not you, so avoid lists of reasons your products and services are great. Consider including elements like infographics, video, and before and after images that provide additional value and keep visitors engaged.
What Is Quality Content To Google?
Google says quality content provides:
Original information (not plagiarized from other sources)
A comprehensive description of the topic
An insightful analysis
Headlines/titles that are descriptive, helpful summaries, not clickbait
In a nutshell: Use content to convince visitors you know your stuff and can solve their problem(s).
2. User Experience
Now that people are visiting your site because of your quality content, it's time to focus on their user experience. A great user experience means your site is easy to use – fast load times, uncluttered design, and clear navigation. To get site visitors to become customers, your website must make it easy to do business with you. That means making it easy to find the content they are looking for and contact or buy from you. The less effort site visitors have to put forth, the better!
Page Experience Can Affect Your Ranking
Beginning in mid-June 2021, Google will use page experience as a ranking factor for websites. The term "user experience" refers to how searchers feel about your website, while "page experience" is how Google feels about your visitors' user experience. Google bases this on a set of "signals," things they look for when evaluating your site. It's separate from determining your content's quality. I'll sum these signals into three factors: speed, mobile-friendliness, and security.
Speed
Consumers expect to find everything about your business on your website, and they expect it instantly. Google knows this and will give your site a higher ranking if you have fast load times. A large part of the page experience that Google prioritizes is known as the "core web vitals" which boils down to making sure your website loads in under 2.5 seconds.
Pleasing Google isn't the only reason you want fast load times, though. Consider these statistics:
47% of consumers expect web pages to load in two seconds or less.
40% of consumers abandon websites that take more than three seconds to load.
A one-second delay can equal 7% fewer website visitors taking action (aka "conversion").
Mobile-friendliness
Roughly 60% of Google searches occur on mobile devices – and the desktop/laptop user experience doesn't transfer to mobile devices. That means you need a different version of your website to show mobile visitors.
Consider these things to make your site mobile-friendly:
Simplify. Make content readable without zooming or scrolling horizontally. Make links far apart, so they're easy to tap. Don't use fancy fonts.
Avoid ads and pop-ups that block text. Consumers will hit the back button, not search for the X to close the ad.
Be speedy. Consumers want instant connections no matter how they access your site.
Make forms frictionless. If you need forms, use auto-populate liberally or request the minimum of information.
See if Google thinks your site is mobile-friendly.
Security
In the past, only companies that requested confidential information like credit card numbers needed secure websites (HTTPS). The extra "s" means the site is secure because it encrypts your connection, and hackers can't intercept data. (And because you can't always see the HTTP(S), another indication is a locked padlock on the left side of the address bar.)
Now, Google considers HTTPS a form of SEO and will boost the ranking of secure sites. (As of April 2021, 72% of websites use HTTPS.)
Again, Google isn't the only reason to use a secure website. It's good for business, too:
16% of consumers avoid brick-and-mortar retailers with a previous data breach (and if Home Depot and Target can suffer data breaches, anyone can).
85% of online shoppers avoid unsecure websites.
1 in 10 websites in 2019 were malicious.
In a nutshell: Use HTTPS for security, to have more credibility with consumers, as an SEO strategy, and to stay on Google's good side.
You can read Google's official notes about page experience, mobile-friendliness, and HTTPS, but I recommend hiring a qualified web developer who understands these highly-technical aspects. (And don't forget to forward this technical documentation.)
3. Backlinks
Backlinks still work! Backlinks are when another website links to yours, which only happens when another site trusts your content. So a backlink is a vote for your website – and the more votes it gets, the more Google rewards you. Why? Because backlinks signal that your website is a great resource with quality content (and we know how Google feels about quality content). Getting relevant, quality inbound links has been a staple in the Google algorithm since the beginning and continues to be a great component for ranking in 2021.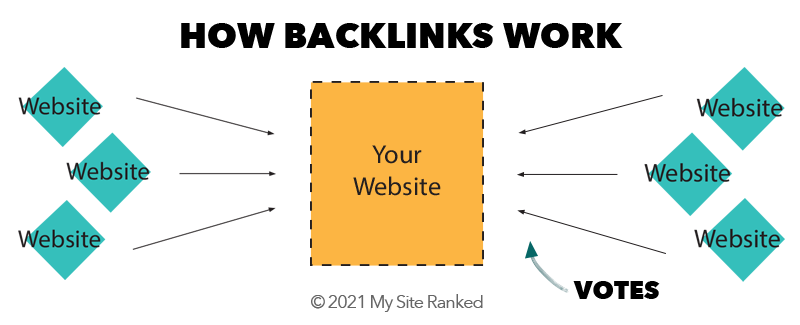 Backlinks can be time-consuming to earn, but they're an excellent source of SEO and a smart way to differentiate your website from your competitors' websites. Many companies don't put time and energy into looking for link opportunities, and if they do, it's unlikely they'll get the same backlinks, giving you another edge.
Also, if you master your content and user experience, you can get backlinks without even trying.
For a hypothetical example, a landscaper's in-depth guide, "A-Z: Everything You Need to Know About Outdoor Patio Design," will likely be found online by blog authors and other landscaper websites writing about outdoor patios. If the in-depth guide is high quality, those people will use it, reference you, and link to it in their articles.
A critical piece of advice about backlinks: quality over quantity. Backlinks help determine your authority and credibility online, and some are more valuable than others. Avoid backlinks from low-authority, low-quality, and potentially spammy websites.
What Does It All Mean For You?
Like any business, Google wants its customers (searchers) to use its services as much as possible. That means offering them fast-loading search results that link to high-quality websites. To make this happen, Google updates its algorithm several times a year. However, I caution you not to get distracted by Google algorithm updates. It's easy to fall into SEO rabbit holes and take your eye off the ball.
The truth is, the core fundamentals don't change. If you ensure your website visitors can find what they want easily, quickly, and securely and get backlinks that prove your business a trusted source, you will succeed. Simply put, Google wants your site to be high quality – and so do your customers.
My goal is to always provide you with information that moves the needle the most, and if you focus on content, user experience, and backlinks in 2021, you'll do just that.
In this video, I summarize these three SEO trends in 6 minutes: