What Is Google My Business?
Google My Business is a free tool that helps you establish your online presence. It's the ideal tool for small businesses not only because it's free but also because it helps people find you.
When you search, Google incorporates your location into the mix (unless told otherwise by the searcher). The top three local businesses that appear for a local search are called either a "Maps Pack," "3 Pack," or "Snack Pack." Some companies will also show up in the sidebar complete with the location map and business description. These results are all controlled by Google My Business.
When you click the top three local businesses, all of the local businesses relevant to your search appear on the left, and a Google map appears on the right. The map shows the location of all the local businesses relevant to your search. All of these things are also part of Google My Business.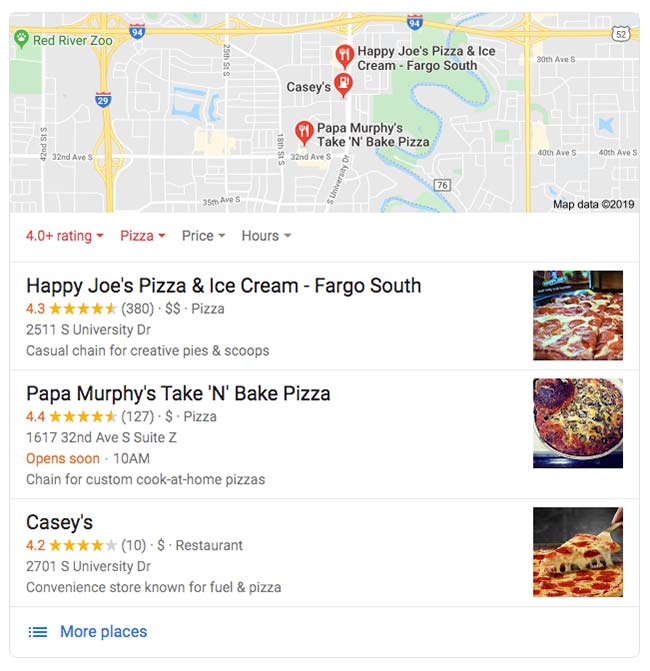 In a nutshell, that's Google My Business. Here's why you should use it for your small business.
According to Social Media Today:
46% of Google searches are for local businesses
72% of local searches lead to a visit within five miles
78% result in an in-store purchase
72% of consumers use search as their first step in finding a local merchant
Drum roll—86% of people are using Google Maps for their local searches. These numbers all point to Google My Business as an excellent, free tool for small business owners. After all, you want to be where the customers are.
How Does Google My Business Work?
Google My Business is the ultimate online business directory. For your business information to appear automatically and correctly (and this is important), you create a profile and "claim it" so that you can manage it.
Once you have set up your profile, you can add relevant data such as your address, hours, photos, and a description of what you're all about.
On the consumer side, Google Maps allows consumers to search local businesses as well as get locations and directions. Google My Business is like the back-end for you to provide information, while Google Maps is the front-end for consumers.
Why Should I Bother With a Profile?
If you don't set up and claim your profile, Google will search for what it can online and use that information instead. This is not great for you unless you have consistent information for different sources across all online channels.
When you use your Google My Business profile, your information will show up correctly and consistently not only for Google My Business but also for all relevant business directories. Your profile also lets Google search engines see you as a legitimate, credible business for other relevant searches.
As well, many people don't realize that Google My Business profiles are the source used by most other directories. So, for example, if you are a dentist, and there is a local dentist directory, that directory will use your Google My Business information to populate their own listings. So, it's always in your best interest to have an up-to-date profile.
Establishing Online Presence
I've already mentioned this is the go-to tool to build your online presence. But there are some critical things to know. First, as mentioned above, Google My Business is the ultimate resource for search engines not only for Google searches but directory searches. So, when someone decides to use an industry-based directory, your information will be accurate.
Second, your Google My Business profile assists in your SEO efforts. It categorizes your business so that Google finds you easily for general searches that are relevant to your products and services.
Your Google My Business profile also allows you to make posts about your business. This is like a free advertising tool that you can use to make announcements, add links and video about products and services, advertise timely offers, and more. Posts are clicked 100% of the time, so you've got to like those odds.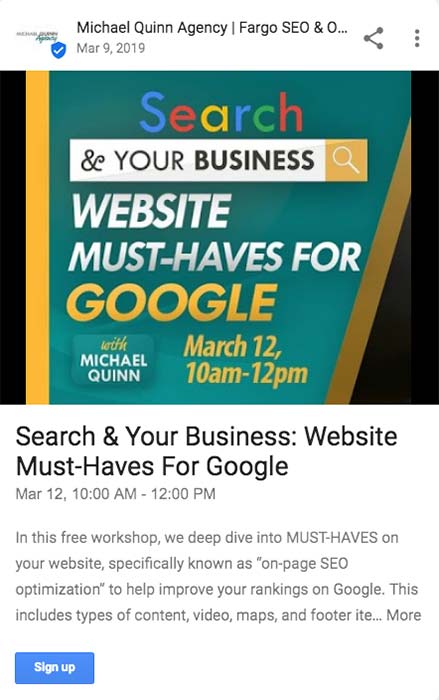 Online reputation management is a monster for small businesses. Knowing what is being said about your brand online is very important because
86% of shoppers read online reviews
before purchasing a product.
Under "Customers" in Google My Business, there are three sections:
Reviews: Track what people are saying about you and respond in real-time.
Followers: Build a community much like social media.
Messages: Connect and communicate with customers.
Google recommends that you should actually ask customers to leave a review. This can be a little scary for some businesses that fear bad reviews, but you've got this! You offer a product or service you believe in, so let people sing your praises. And if you get negative reviews, this is not a reason to sweat. Not everyone can be 100% satisfied. It not only offers you feedback to improve, but Google also allows you to respond.
By responding to reviews, you can build trust. There are also some impressive stats about responses to negative reviews. First, customers who receive a response to their negative feedback appreciate it, with 33% revising their negative comments to positive. Second, 34% deleted their original negative comments.
You can also have a Q&A section that collects common questions with your responses. This should be organic, as it will reflect what customers actually want to know. It's not unheard of though to have someone toss you a few questions that will help customers, with good answers that allow people to get quick information. But again, the organic root is always best.
The key here is to make sure that you are responsive and providing answers quickly. This is an excellent tool because it gives easy answers to things like:

Do you have parking?
What are your busiest hours?
Are you dog-friendly?
If your business has a booking requirement, from hair salons to B&Bs and from dentists to cleaning services, Google My Business offers an online booking option. People can reserve a time and date right away directly from the search results feed. Companies have reported that up to
75% of their online bookings
are new customers. This is good for growth.
Analytics and Insights Are Incredibly Useful
Google provides monthly insights emails to help you track your local listing's performance, including:
How many people viewed your listing
How many people click through to the site
How many calls you got
How many people asked for directions
This will help you see how well you're doing. You can also look at your insights in your profile whenever you like.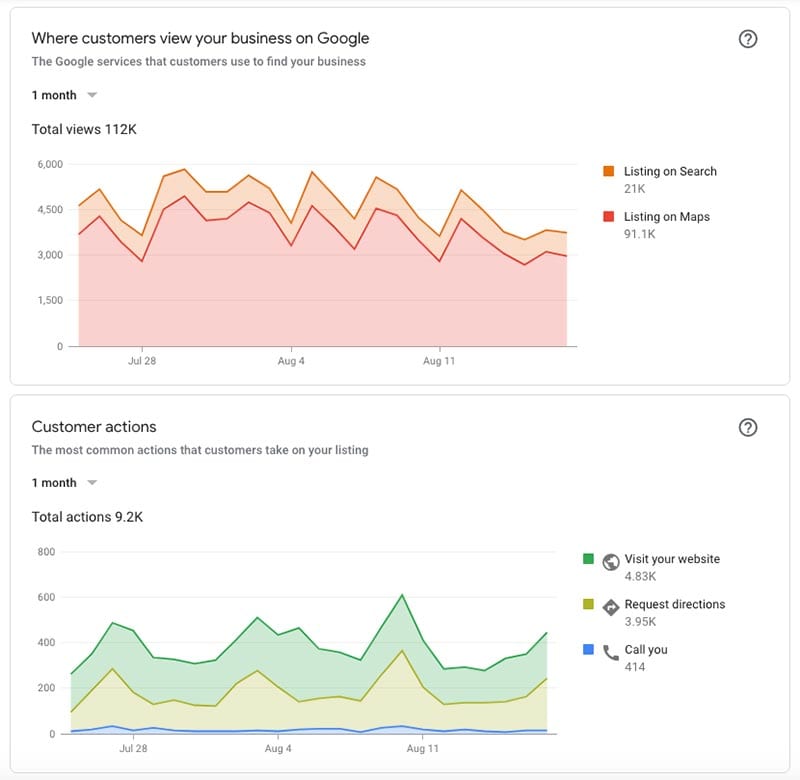 Mobile Businesses Can Take Advantage of My Business Service Areas
If you're a mobile business that goes to your customers' locations, you can still have a Google My Business profile. You do have to be able to provide an office location with hours listed, but this is great for small business owners such as handymen, homecare providers, mobile dog groomers (and people groomers), personal chefs, an others. If you go to them, you can still have a profile.
Your profile will come up for your location and show people the area you cover. Google's service areas feature makes this easy. You can also show multiple service areas so that when someone searches in any of your areas, you will show up.
There are many working parts to SEO, and it's not a simple thing for small businesses to tackle. However, Google is always looking for other sources that help you become an established, trusted source for it to present to its users. Local businesses can optimize their Google business listing to improve their ranking.
It's all about getting your Google My Business profile up to date and complete. The more information that you provide, the higher your ranking. Businesses with complete, accurate profiles get seven times more clicks than companies that have left out information. Complete profiles are also 70% more likely to lead to a visit to your location.
As you can see, for relatively little effort and zero dollars, your Google My Business listing is a crucial tool for your small business. At the least, you can claim and update your listing, so it's accurate and useful; at the most, you can go full throttle and use all of the features at your disposal.
Check out this video to learn how to set up your Google My Business account:
No tags for this post.