SEO Glossary for Small Businesses
An Easy-to-Understand Guide for Decoding SEO Jargon
(with Ranking Tips)
All the marketing terminology surrounding your website can be complicated. Marketers love to use words like keywords, backlinks, and conversions… but what the heck do these all mean?!
As a small business, we know you're busy doing your craft, so finding the time to decode all of this jargon isn't easy.
To help, we thought we'd break down the common SEO terminology in a simple, easy-to-understand glossary. This document will explain the jargon in layman's terms and give you some beginner's tips to start ranking your website higher on Google.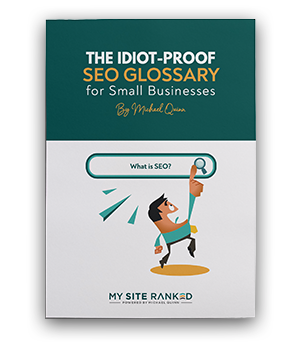 Get the PDF Version for Free!
Finding the time to decode search engine optimization terminology is not easy. To help, I thought I'd break down SEO in a simple, easy-to-understand ebook. Download it now!
Search Engine Optimization (SEO) = Google Rankings
More commonly known as SEO, this is the act of improving your website's ranking on Google. For example, if you operate a landscaping business, but a search for local landscapers on Google puts you on the 3rd page from the top result, stepping up your efforts to improve your ranking would be considered "search engine optimization". SEO technically applies to your rankings on Bing, Yahoo and other search engines too, but we all know Google is king. 89% of all people in North America and 92% of people worldwide use Google over any other search engine. (*Statcounter)
Keywords = Words or Phrases You Want to Rank For
Most commonly called "keywords", these are just the words or phrases you want your website to show up for when searched on Google. You can use free or inexpensive tools like
Ubersuggest
and
Google's Keyword Planner
to help determine which words/phrases get searched the most and which have less competition. This process is known as "keyword research".

Organic Results = Free Traffic
This refers to the websites that show up naturally in search results on Google, Bing or other search engines. The better your SEO, the higher you will appear in the organic results. The traffic your website gets from showing up in organic results is free, compared to the alternative paid ads which usually appear at the top and bottom of the page.
Short for "search engine marketing," SEM refers to online traffic you are generating through some form of paid online advertising (eg. Google Ads). The term "pay-per-click" (PPC) goes hand-in-hand with this term since most online advertising is charged on a per click basis, meaning you only pay when someone clicks on your ad. You'd assume the term "search engine marketing" would encompass both organic (SEO) and paid traffic, but for some reason it doesn't.
Conversions = Actions on Website
Online marketing essentially boils down to two things – website traffic and conversions. Conversions are the actions someone takes when interacting with your website, such as a phone call, form submission, or PDF download. Conversions are just as important, if not more important, to the SEO process than the traffic itself. DO NOT OVERLOOK THIS! To be successful with SEO, it's important to have a high conversion rate. You've got to be able to get visitors to take action from your website. This is often the result of being able to build trust with the visitor through a good user experience and helpful content. There are many tools that allow you to track these actions on your website.
On-Site & Technical Optimization
These are things you can do on your website. Like popping the hood of your car, we want to make sure the fluids are topped off, belts are tight, and gears are lubricated.
These are the titles of your pages or blog posts. These are valuable because these are the titles that appear in the Google results. They are also what shows up at the top of a browser when you visit a webpage. Title tags help Internet users determine which page they're on and what is about. More importantly, they help Google understand what the page or post is about. You can and should create a unique title tag, approximately 50-60 characters in length, for each page and post on your website. You can easily do this using the Yoast plugin for WordPress websites. Platforms like Wix and Squarespace have built-in tools for this also.

These are the brief descriptions that show up in the Google results. They are usually 120-155 characters long. These help Internet users decide whether to click on your site or move onto the next one. Just like title tags, you can and should create a unique title tag for each page and post on your website. You can easily do this on platforms like Wix and Squarespace or using the Yoast plugin for WordPress websites.

Not to get too technical, but there are various formatting options available for your website text that can impact your rankings. You should always have one Heading 1 (more commonly known as an H1) on each page or post of your site. Most often, this is the headline or title at the top of your page text. Think of this like the section heading in a book. In your case, you want to make sure your H1 includes the word or words that you want to rank higher for on Google. In WordPress, Wix, and Squarespace, you can format these easily using your text editor.
Example: <H1> Landscape Design in Springfield </H1>
Other Headings (H2s, H3s, etc.)
These are your sub-titles or sub-headlines. Since you should only ever have one H1 on your page or post, all other headlines should be in sequential formatting – H2, H3, H4. By adding these heading "tags" you're creating a hierarchy within your content with H1 signifying the most important heading, H2 being the second most important headings, H3 beneath that, ect. After your H1, the following headings need to follow a sequential hierarchy, based on their importance. H2, followed by H3, and so on. It's okay to have two headings back to back, such as an H2 followed by another H2. But what you don't want is, for example, an H2 followed by an H4. That would break the hierarchy. Again, this can easily be done in the text editor on your site.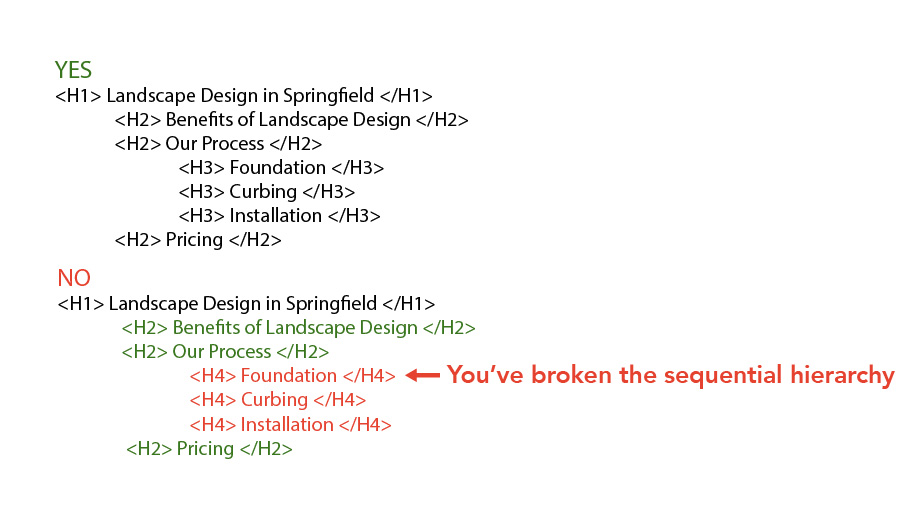 Ever wonder how Google can tell what the image on your site is? To be honest, the search engine really can't unless you tell it. "Image alternative text" allows you to describe your image to Google. In the media library on your website, you can add these descriptions to each of your images. Not only does adding image alt text give more relevancy to the page or post where your image sits, but will also help your images appear more often in Google Images.

Google cares how fast your website loads. And so do your customers. The slower your site loads, the more likely you are to lose viewers. Keep your website fast by keeping your image sizes low and using a cache tool on your site. A cache tool will help store information on the viewer's browser. This stored data is then used to quickly load the web pages every time the website is revisited. For WordPress websites, I recommend the
WP Rocket plugin
(affiliate link)
. This plugin has all the bells and whistles to instantly improve your site's speed.
Your website needs to be mobile friendly! Roughly 60% of your website's traffic will be from a mobile device and that number is likely only to increase. Google also puts more priority on your website's mobile version versus the desktop version. Make sure your site looks good and functions well on a mobile device. Use the free tool Google Search Console to check for mobile issues. Inside this tool, Google has an entire tab dedicated just to "Mobile Usability" and it will tell you which issues you need to fix.
Off-Site Ranking Factors
These are the external factors that impact your website rankings. In fact, these off-site factors impact your rankings just as much as things on your website.
One of the most important factors to getting your Google business listing ranking in the top three spots in the local maps pack (maps listings) is the amount of reviews your business listing has. Simply search your industry plus your city on Google and you'll most likely find that the business with the most Google reviews holds a top three spot in the maps pack. You should adopt an ongoing strategy for asking customers for reviews so that you can acquire more Google reviews than your competitors. Keep in mind that they don't have to be all 5-star reviews. The overall quantity is more important.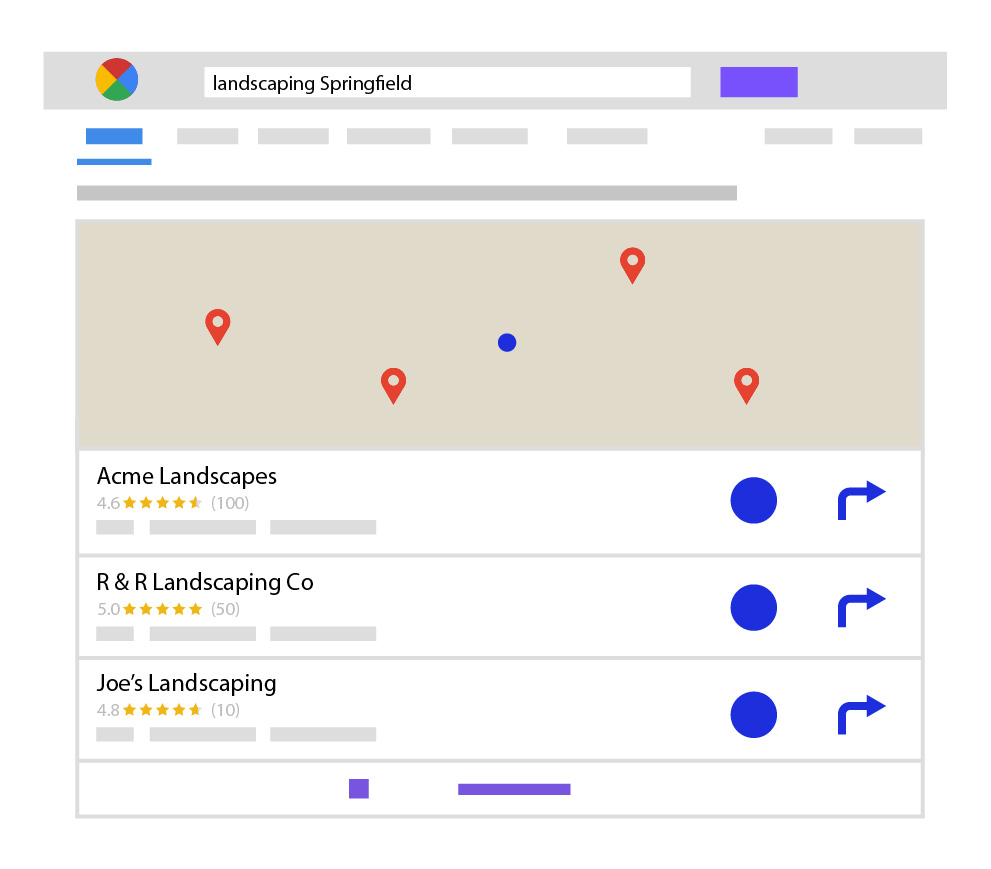 Local Citations = Online Business Listings
Often referred to as "local citations," these are web-based listings for your business, most often in online directories like Yelp, yellowpages.com, and Nextdoor. These listings are the foundation for your local SEO because they create your business's initial online footprint which includes important details like your website URL, description of services, and hours.
Most importantly, these listings include your business name, address, and phone number (often referred to as "NAP" – name, address, phone). This info allows search engines to know where your business physically exists and helps your business appear better in online searches in your city or local area. When you get your business NAP in the right places online, you can begin to appear in local Google and other search results — and in the local maps pack.
I recommend claiming at least 25-50 listings for your business. The more, the better. While you can find and claim these listings up on your own, I recommend services like BrightLocal (affiliate link), Moz Local, or Yext to help get them set up for you at a low cost.
Backlinks = Links from Other Websites
Hyperlinks from external websites back to yours is a huge ranking component in the Google algorithm. Most commonly known as "backlinks," earning these mentions in the form of links from authoritative sites like your local newspaper, chamber of commerce, industry blogs, or professional associations (eg. National Association of Landscape Professionals) is equally as important as everything you do on your website. You should be actively looking for opportunities to get mentioned on other websites and always make sure you get a hyperlink back to your website if you do (don't be afraid to ask).
Earning backlinks is often a result of your professional relationship building and other marketing. For example, you might get interviewed in a local newspaper article as an expert because you've done a great job getting your name out there in other ways. Most likely, that article will include a link to your website when they mention you.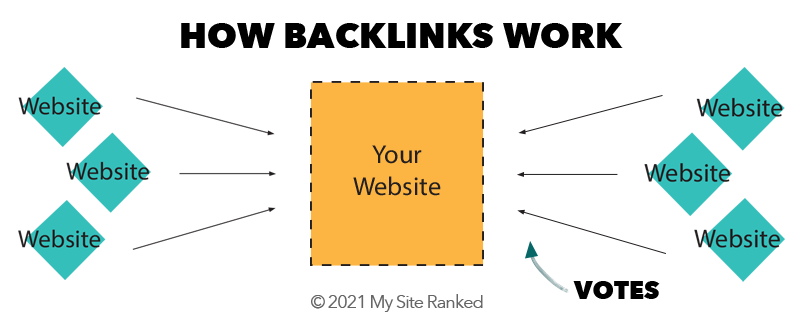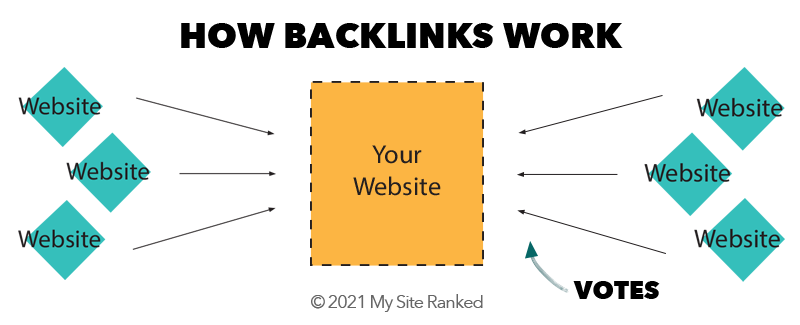 Social Shares = Social Media Likes and Shares
While these are not as big of a ranking factor, they do signal to Google that your website content is relevant. Social signals are likes, shares, retweets, votes, and pins that other people place on Facebook, Twitter, LinkedIn or other social media sites.
NOTE: Most people get this wrong and think simply sharing on their social media accounts helps SEO. It doesn't. First, it only helps if you are sharing content from your website (the one you want to rank higher). For example, a photo without a link to your website does not count. And second, that content MUST get liked, shared, retweeted, and pinned by other people to count as a "social signal" to Google.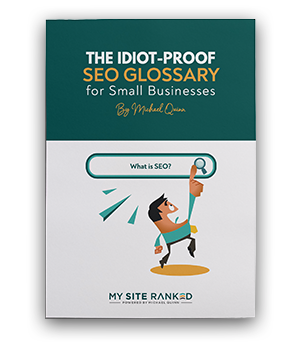 Get the PDF Version for Free!
Finding the time to decode search engine optimization terminology is not easy. To help, I thought I'd break down SEO in a simple, easy-to-understand ebook. Download it now!